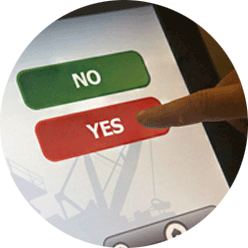 Pertrain's visitor induction system provides a consistent and efficient means of addressing the duty that an organisation has to inform visitors of their safety obligations and responsibilities while on site.
The induction content is customised to suit your organisation's needs and typically includes text, graphics, voice over, videos, assessments and login screens. The induction can be used on-line, on a desktop computer or on a stand alone touch-screen kiosk.
Benefits of an effective visitor induction system include:
consistent message delivered to visitors in a professional manner
staff time not wasted by repeatedly delivering visitor inductions
visitors can be identified and accounted for in an emergency situation or site evacuation
visitor numbers can be tracked and on the fly reports accessed.
Each installation of the visitor induction is linked to a website that records visitor information and visit details, this allows for the one system to deliver different inductions from many locations. Pertrain can assist in developing the induction content or provide a PPT template to help you develop the content yourself.
For more information download the induction fact sheets: